'Drab 2 Fab' in 8 days..!
— 28 February 2022 by Martin Farrow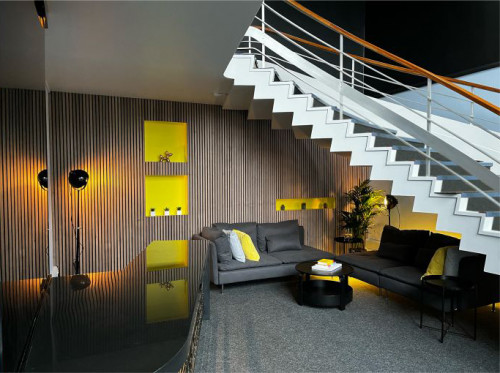 Our 'Socool' clients at The Convivia Group, the company that we are working with on several exciting new developments throughout the UK, decided to give the LOMAX DESIGN team a bit of challenge for the new year.
Our first client meeting of the year, and they asked us to do a quick makeover of an unused area within their offices in Crawley that was urgently needed for a podcast filming session in just over a week.
The area was unused, soulless and frankly very drab. But, working closely with their amazing Construction and in-house team at Convivia offices, and with a strong team ethos, we were all in Challenge Anika mode and transformed the area in record speed....!
Keeping costs as low as possible, we decided to work with what we have by keeping some of the Charcoal and black elements but then introducing some colour and texture to bring the area to life.
For the colour, walls/stairs, we uplifted them with the Dulux Colour of the year 2022 'Bright Skies', along with a light grey and a bright splash of yellow for the accents. For the texture, we used a beautiful vertical slatted timber acoustic panel to cover the complete rear wall. This, along with clever use of some planting and ambient lights, transformed the area into a space that became warm and inviting.
Smiles on everyone's faces are always a good sign.